DataBank breaks ground on new Atlanta, Georgia data centre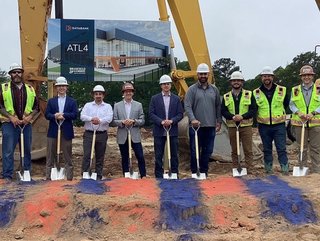 DataBank breaks ground at a site in Atlanta, Georgia for its newest data centre
DataBank's expansion marks the fourth data centre and first campus in Atlanta, meeting growing customer demand for IT infrastructure
DataBank — a leading provider of enterprise-class colocation, connectivity and managed services — has announced the groundbreaking of its ATL4 data centre.
The colocation facility will feature 200,000 square feet of raised floor space and four megawatts of power. Available power will eventually expand to 40 megawatts in support of the DataBank's Universal Data Hall Design, which is ideal for hyperscalers, high-density computing, and high-performance computing workloads.
ATL4, just 20 minutes from downtown Atlanta, is adjacent to the Georgia Power substation to ensure reliable power for customers. Once completed, ATL4 will tether via dark fibre to DataBank's ATL2 and ATL3 facilities which house connectivity nodes from Zayo Networks and other providers for metro, regional, and long-haul interconnection.
DataBank expanding presence in Atlanta, an area emerging as 'one of the top data centre markets in the US'

This comes after DataBank has expanded its operations by breaking ground for other data centres in the likes of Salt Lake City as well as acquiring existing centres to further broaden its portfolio.
"The Atlanta metropolis continues to grow and we are expanding our presence as the area emerges as one of the top data centre markets in the country," said DataBank Vice President of Construction Tony Qorri.
"Adding a fourth data centre to the greater Atlanta area will further establish our position as a leading enabler for high density computing workloads within this vital connectivity hub for the southeastern United States."
Brasfield & Gorrie is contributing to the construction of the project.
"The need for mission critical facilities has steadily grown, and Brasfield & Gorrie's experience has grown right alongside that need," said Vice President and Division Manager Dustin Smith.
"We've completed more than US$1.3 billion of mission critical projects right here in Georgia. We are used to the attention to detail required to build a successful data centre and we're grateful for the local trade contractors and other partners who are essential to success."
When ATL4 opens, the four DataBank data centres will combine to deliver nearly 300,000 square feet of white space/slab flooring and more than 55 megawatts of power. DataBank is well positioned to support the prevailing technology trends highlighted at the upcoming 2023 Atlanta CIO Executive Leadership Summit — including innovation and invention to spur revenue growth, world-class collaboration and teaming, advanced technology to drive cost reduction, and securing a global digital agenda.